EyeOnJewels is the Premier Local Marketplace for Jewelry and Watches. Our goal is to connect local shopper with local jewelry store inventory so you can find the products you're looking for from a local store instead of buying from half way across the world.
Shopping local has many advantages for you the shopper and the local businesses and even the environment!
1. Service: Shopping local gives you the BEST possible personal service. You can actually talk to real people who made or curated the products, can answer your questions and you can even go visit on day if you'd like.
2. Community: Shopping local supports you community. We all know the value of community and unfortunately e-commerce is destroying local business in way we will not be able to recover any time soon. We want to change that by providing the convenience of e-commerce AND the benefits of local shopping.
3. Environment: Shipping products all over the world is massively taxing on our environment and expensive. If you think that "free shipping" option is really free you should research more to see the real cost of global e-commerce shipping. We want to greatly reduce or even eliminate this expense on all of us.
4. Returns, adjustments and other services: Jewelry is a special product, not all pieces are the same, every diamond and precious stone is different and you can not just rely on a description on a page to find all the information you need - before and after a purchase. Having access to a local store makes a big difference in how you can be served when you have questions.
5. Marketplace Protections and Benefits: searching for an engagement ring in the vase sea of websites is a full time job, who has time for that? The value that a local marketplace provides you, the shopper, is to provide multiple options in one uniform format so you can pick and choose what you need from one or more retailers. And we add the quality aspects to protect your investment for an added level of protection.
--
Based in Southern California EyeOnJewels has been helping consumers and the Jewelry trade with innovative solutions since 2007.
We help consumers find and purchase jewelry and watches from local retail stores and some times from online stores when the product is not available locally. With over 50,000 stores and hundreds of designer brands we make the link between local consumers and products in a simple and elegant way.
For our trade partners we provide access to consumers in the markets we serve as well as valuable data on how their products and retail channels performe in the real world at a much more efficient and cost effective way than other available options. Trade members can contact us if interested to learn more.
Consumers are gravitating towards Product-First search
Consumer behavior has changed in the last few years. People love to explore products online first before going to a local shop for purchasing. Reports show 62% of offline buyers compare products online. Every brand and retailer is leveraging new strategies to target shoppers. People start their shopping journey from images and video and this trend is increasing with the popularity of services like Instagram and Pinterest.
As you can see from the diagram below it is faster for shoppers to find your products and store if they see an image of your products rather than the time-consuming process of keyword search. People just don't have the time to search so they automatically gravitate towards the faster option.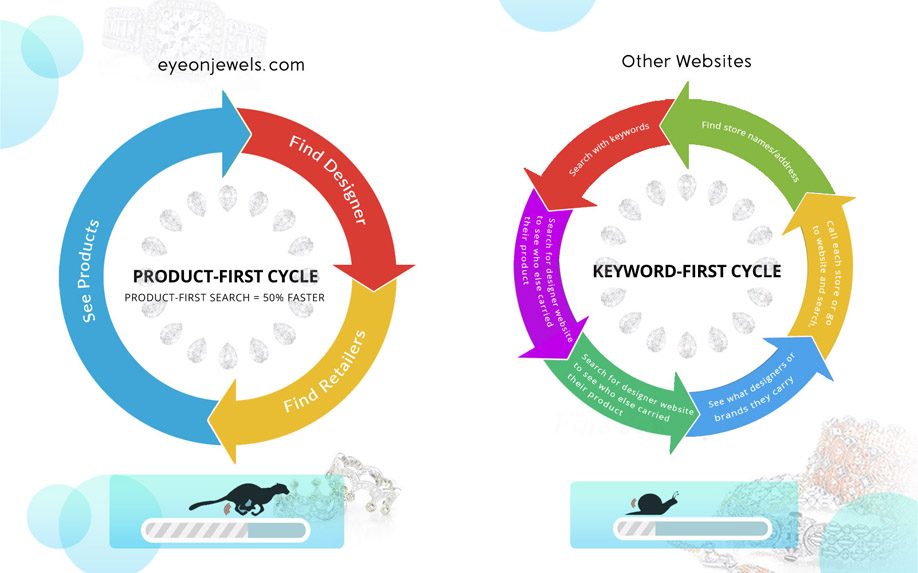 So why not just list on Instagram and/or Pinterest? You definitely should be active on at least one of these platforms but they are so massive it's very difficult to capture a lot of attention without major investment. And their process is not fully optimal either because you can not link your posts to a direct PDP (Product Detail Page) consistently. This adds more "friction" but still faster than the keyword search cycle.
So what strategy should you have? The best strategy is a selective mix that matches your products and your audience. You don't need to be on every platform and you certainly don't need to always be selling online. As a local store, you need to be encouraging shoppers to engage with you so the expertise and service of your staff can come into play.
EyeOnJewels is the only Product-First local jewelry and watch discovery site that helps local jewelry and watch retailers and brands increase engagement with today's shoppers who prefer to shop using online tools as much as possible. We designed our platform to present products and stores within the shopper's local radius while highlighting the different ways they can engage with you.
Listing your store on EyeOnJewels is free! You can claim your store or add it if it's not already in our database, update the information and upload products all for free. Here's how to claim your store in 3 simple steps:
1. Signup & Create a profile.
2. Submit a request to claim your store & wait for the approval.
3. Start modifying & optimizing your listings.
It's as simple as that! There is zero risk for maintaining your store on EyeOnJewels and the only downside is losing out of free referral traffic. Claim your store now.